Uniquely, she lays surrounded by crystal clear waters. Her divine aura just pulls you into her; and as little as she is, she is an inspiration, a blessing and a nation of love. Her children have hearts of gold and a feeling of warmth; and inside her, she holds tranquillity, warmth and greenery.
Stop! Take a deep breath, because you are about to feel the ocean breeze and you are about to see the tall palm trees. My dear friends, the 'She' I am referring to is Grenada! The Isle of spice where everything nice. The birds and the trees, the buzzing bees and the friendly people along with the tropical climate, the majestic waterfalls and the white sand beaches are all paradise at your feet. But wait! There's more! Along with Grenada are her two petite but beautifully gorgeous sisters Carriacou and Petite Martinique; where you find lots of mystery but however, no KFC. Welcome to Grenada, the spice of the Caribbean!
Picture © Joshua Yetman
Where is this beautiful paradise you may ask? Grenada is the 4th smallest country in the world and usually, people confused Grenada with the popular Granada in Spain. When I tell foreigners that I'm from Grenada, they generally reply "Oh, in Spain, lovely!" and this is where I say No! Grenada, in the Caribbean.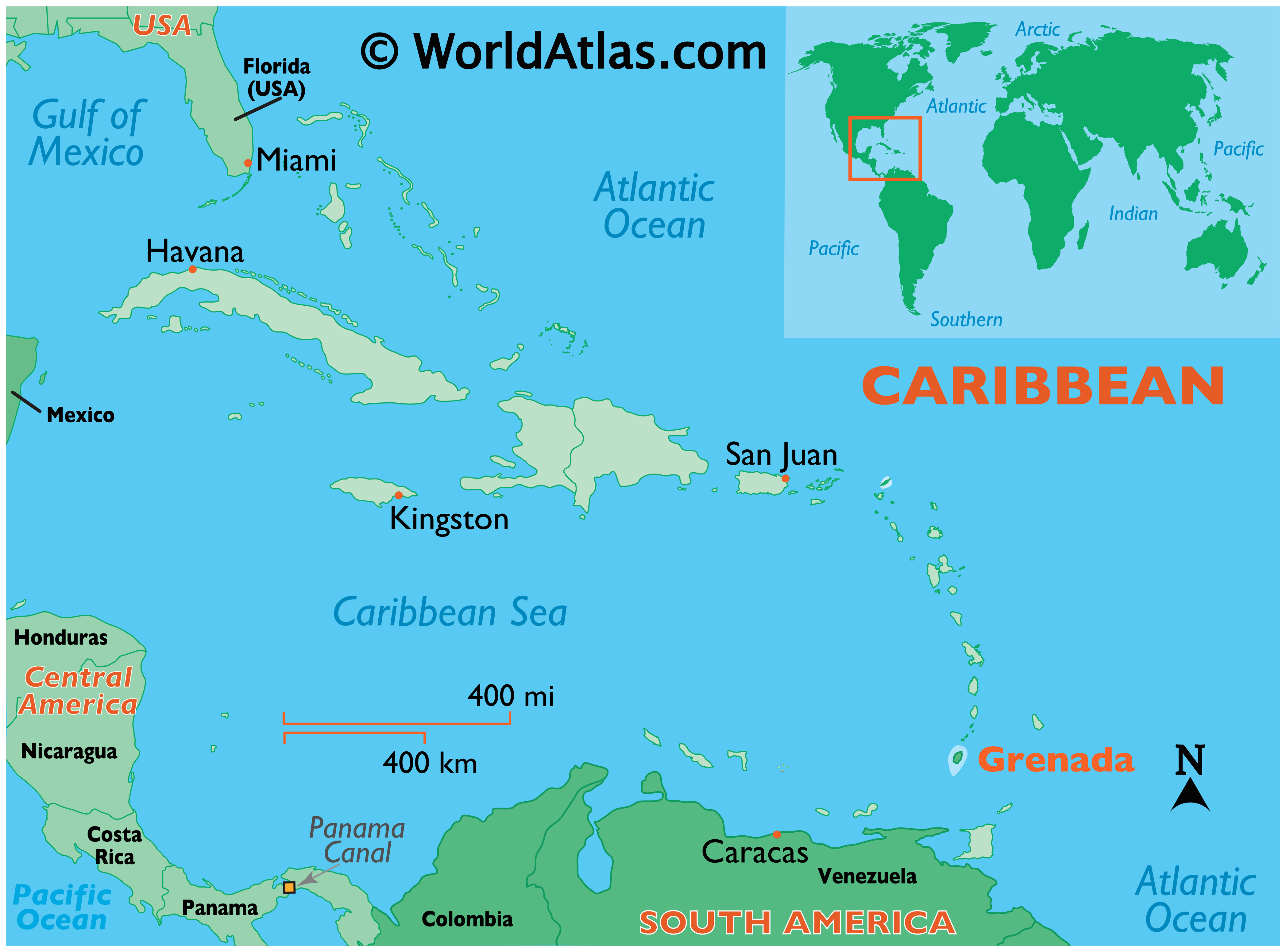 © Google Images
Grenada lays along with a chain of islands between both the Caribbean Sea and the Atlantic Ocean. She is situated 12 degrees north of the equator and 61.45 degrees west. She is just about a dot on the map, but when you take a closer look at her untouched beauty you will be in awe of a place you never thought or even knew existed.
Picture © Joshua Yetman
So, what is this tiny island all about? Grenada is made up of refreshing rainforests, beautiful white sand beaches, lush vegetation and so much more. You are free to saunter all about the island and there are just so many things to do and to discover in this gorgeous paradise such as, go river tubing, dive into the country's rich history, meet the friendly inhabitants, visit the Grand Etang national park and of course enjoy the local foods and drinks.
Image © Laluna Resort
Hidden in the mountains at an elevation of about 1900ft, with waterfalls, lakes and lush green vegetation I now welcome you to Grand Etang National park. This place is not just your regular park but, in fact, it holds an alluring beauty that you may have never witnessed. The Grand Etang National park is home to the famous Grand Etang Lake and several waterfalls along with beautiful flowers a variety of plants, and many different types of fish. Oh! and let's not forget the famous Grand Etang monkeys who run to your feet always wanting a bite of food to eat. If you want to visit a beautiful lake, with the backdrop of a serene rainforest, Grand Etang National Park is the place for you.
Image © Joshua Yetman
*Sings* "You can visit the Grand Anse, have a picnic and romance, you can relax on the sand and get a beautiful suntan" *end of song*
Grand Anse beach is one of the most famous and well-known beaches in the Caribbean. Of course, you can visit the other 44 beaches too, but there is something oh so special about The Grand Anse beach. The shimmering white sand pulls you in and the crystal-clear waters leave you awe-struck. This three-kilometre-long beach is a favourite 'liming' spot for both locals as well as tourists. You can read a book and relax while taking a beautiful suntan, you can take a dip in our amazing crystal waters or you can just enjoy the sun setting in the evenings. Grand Anse beach has everything one could possibly ask for.
Image © Joshua Yetman
Is that all Grenada has to offer? Oh No! We have much more. Head to the Carenage, one of Grenada's most colourful places! This harbour is one of the most attractive places in Grenada and possibly the most picturesque harbours in the entire Caribbean. Enjoy the amazing views of the boats, the water and the historical- looking buildings. Or just sit on a bench and enjoy the passers-by. If you want to experience St. George's, The Carenage is the perfect place for you.
Image © Joshua Yetman
Have you ever visited an art gallery? How about one that's thirty feet underwater? Grenada's waters consist of an entire underwater art gallery known as The Molinere Underwater Sculpture Park. This gorgeous sculpture park comprises one hundred and ten statues and is one of the most famous snorkelling sites on the island. It is one of the most astonishing experiences you can get!
Image © Caribbean and Co.
You must be wondering, all this sight-seeing but where do I find food? Don't you worry! Grenada offers a variety of different cuisines and amazing local drinks. I love my tummy and I know you do too! Savour the National dish, Oil down which comprises a combination of breadfruit, coconut milk, dumpling, callaloo, saffron and salted meat. This one-pot meal is just so hard to resist. The aroma of the spices gets your tummy growling for more! What's more? Grab a Roti! Grenada is famous for Roti which is like a wrap filled with curried chicken and potatoes, and you can find one almost anywhere! My favourite Roti place is at Chuckey's Bar, right opposite the Saint Georges Bus terminus.
Image © Uncommon Caribbean
What about the drinks? Our amazing Isle of Spice offers a wide variety of local fruit juices and local rums. River Antoine Rum Distillery and Clarks Court Rum both produce the finest local rum on the Island. If you want a taste of our strong pure white rums or the famous Rivers Royale, come on down to Grenada and take a sip! It will keep you coming again and again. Wait! Shh! Let me tell you a small secret. In Grenada, you can find Bootleg rum known as "Under-de-counter." This rum is a mixture of alcohol, centipedes, leaves, wood, plants, and anise. It may look and smell horrible, but when you take a sip you'll enjoy the caramel flavour. This famous bootleg rum is hidden away and is of questionable legality so it's only brought up on special occasions. It's known as "a man's drink" as it operates to be the Island Viagra. If you are looking for something different, other than boring old vodka and orange juice, check out our countryside bars and take a shot of the "Unda-d-counta."
Image © Google Images
Let's not forget, Grenada is famous for our annual Spicemas! This is the official name for Grenada's Carnival and it is held every year around the second Monday and Tuesday in August. However, the festivities and parties leading up to the official "Spicemas" itself last an entire month long. Grenada's Spicemas gives you a feel of what 'a real carnival' should be like. If you've never experienced Spicemas then you have never witnessed the Jab-Jab which has a historical connection with slavery and the fight for freedom in that period. You may know of the Soca that rings in everyone's ears at carnival but what about the Jab who bring an extra beat to the Soca music, with the loud chanting and the blowing of conch shells all on J'ouvert Morning. Grenada's carnival has a flavour you will never find elsewhere! It is filled with the Jab-Jab, the pretty costumes, the endless gyrating to Soca music, rum, rum and more rum! From cruises to fetes, to all white parties, July to August is really a time to experience in Grenada.
Image © Google Images
If you have never seen or witnessed Grenada and its culture, what are you waiting for? Come on down here and witness the Spice of the Caribbean! Don't miss out on a lovely adventure.
That's all, for now, guys, stay tuned for more about the Spice Of the Caribbean!